Our top ecommerce platforms are based on objective performance data, feature set and, value. Compare the best ecommerce website builders to find one that fits your needs.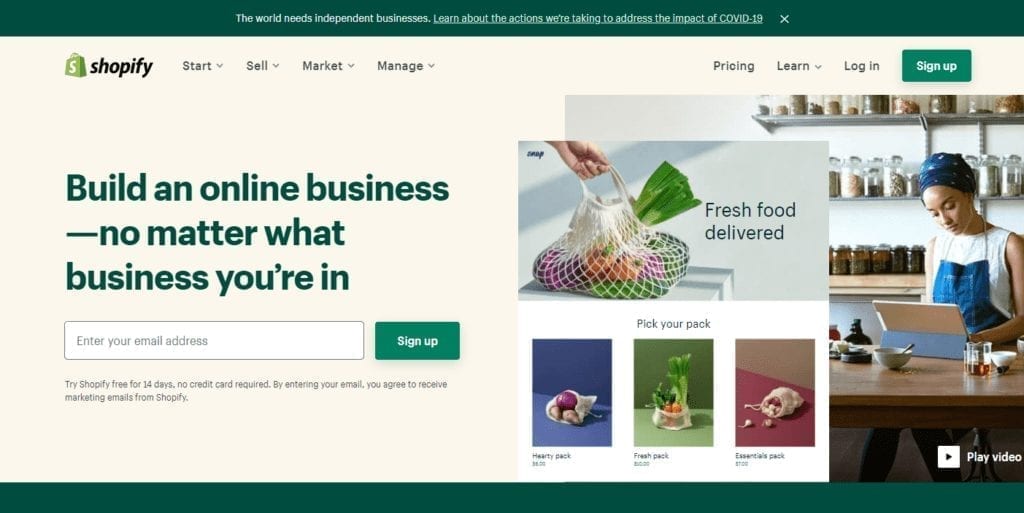 Shopify is the best platform at selling. If you plan to dropship, rely on Facebook Ads or Instagram marketing – this is the best choice. I wouldn't use Shopify if I was going to rely on SEO. I also wouldn't use Shopify if I were creating a large store with many products. I'd use BigCommerce instead.
Shopify is slightly better in several areas over BigCommerce such as post-purchase 1-click upsells – but far behind in terms of performance. I've used Shopify on my site before and have worked with many Shopify sites in the past, but I like WordPress better because I have an affiliate revenue model in addition to products.
It's easy to set up the online store with Shopify's drag and drop interface. Most beginners to website development can get the hang of it in a few minutes.
Their apps are far too many to list.


They also have the Shopify POS for simple brick and mortar stores looking to take payments via the mobile app. Complex stores can use it as well.
Like everything else, they have downsides. The not-too-bad one is that they have just 10 free themes right now. The paid themes hover around $100 to $180.
The big disadvantage they have is SEO. Weak ranking performance highlights one of my concerns with their SEO.
Also, they have a rigid URL structure; you cannot change sections of it. I've seen many strange unstructured URLs in Shopify sites well beyond the /products/, /pages/, and /collections/ slug restrictions. I also noticed during our research that websites using Shopify have weak ranking. In terms of SEO, Shopify is very middle of the pack at best.
Finally, they charge transaction fees if you are not using Shopify Payments. And no one likes those. Then again, Shopify Payments is a solid option.
Pros
Lighting fast load time
Super easy to set up
Lots of certified partners to help you
1-Click selling
Allows multiple channel and social selling
Great themes with varied designs
Cons
Rated poorly in SEO in consecutive studies.
Unable to customize the checkout process
Apps can add up and become costly
Need a developer for advanced features
WooCommerce
When WooCommerce is compared with Platforms like BigCommerce, it is the best single platform to run ecommerce and affiliate site under one roof. But the true ecommerce platforms like BigCommerce and Shopify sell better, but not by much.
It works with WordPress to turn any website into a functional ecommerce store. Also, there are extensions available for integrating payment gateways, social media, email marketing, 1-click selling, and shipping.
The biggest problem though is not the setup; that can be solved with YouTube tutorials. The problem is scalability. Most users have reported it slowing down as they get more products and customers.
For cost, it is free. Few extensions have prices attached to them, and some WordPress themes are expensive. However, you might not need those extensions, and there are good free themes.
If you are familiar with the WordPress platform, then WooCommerce is a breeze for you. You only have to install it, add your own products and fix your settings.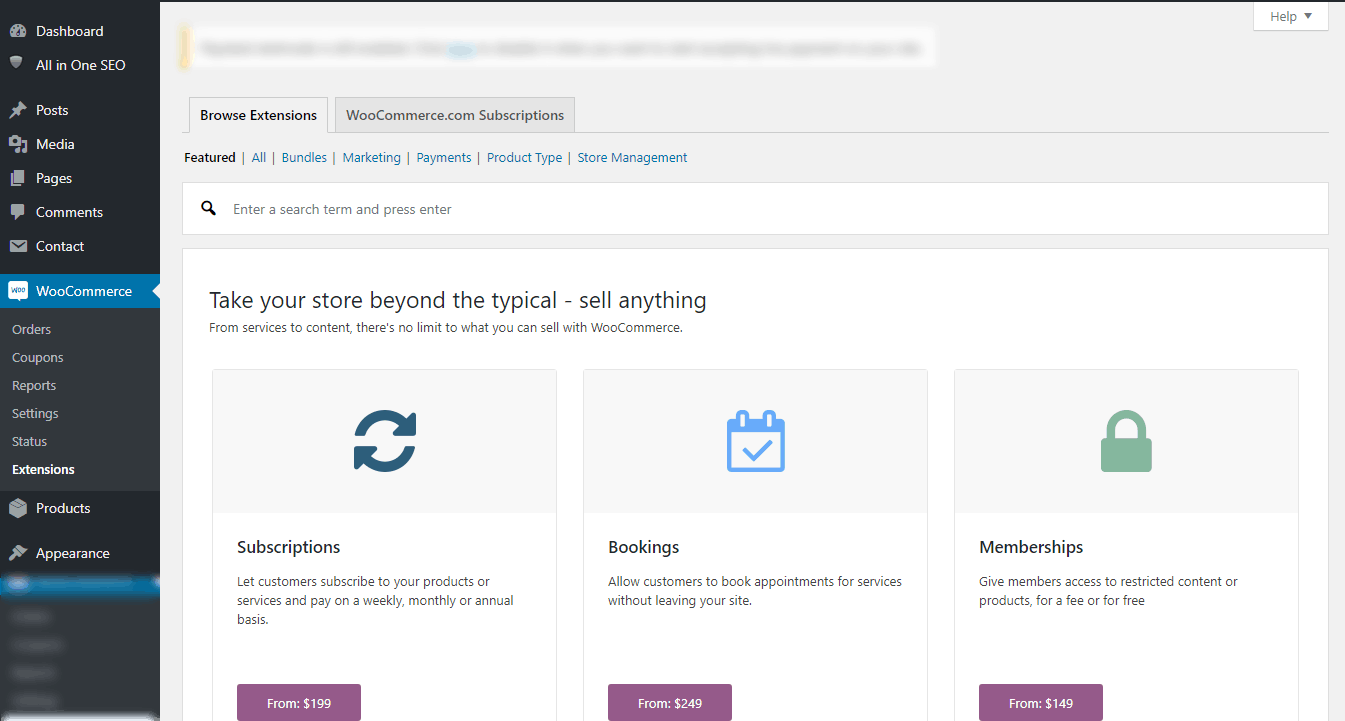 People who aren't familiar with WordPress will struggle with the technical details. That includes buying hosting, installing WordPress, setting up your theme and plugins.
Pros
WordPress is the best platform for SEO
1 Click selling app available
Lots of WordPress experts available
Highly customizable
Many marketing options and plenty of other integrations
Cons
Good hosting can be pricey
Have to deal with blame game for troubleshooting.
Virtually zero support
You need extensions for simple stuff
Magento (Now Adobe Commerce)
The large brands like Nike, Procter & Gamble, and Cisco trust Adobe Commerce. Coding is an integral part of the package. So, if you have a developer or the budget for one – and want something truly customizable and powerful – Adobe Commerce is a solid choice. You can do and undo till you get the feature-rich online store you want.
A big part of Adobe Commerce is the community. It's large with developers willing to work on your store for a fee or answer some of your questions free. There's also a marketplace where you can get extensions and themes to increase the functionality of your platform.
Adobe Commerce's most used free, but there's a paid level for enterprise solutions for large ecommerce businesses. It is expensive; the annual licensing fee runs in tens of thousands of dollars. That's huge, but it's on the cloud, faster, and comes with additional features including automatic trigger-based email campaigns and automatic cross /upsell.
Whichever you pick, you'll enjoy the long list of features that you can extend. Things like discounts, recurring payments, ability to grind SEO, adjust content per user, membership subscriptions, unlimited products, and more.
Pros
Robust and feature rich
Strong SEO
1-Click selling
Lots of users and community
Scalable and highly customizable
Flexible to choose where you want to host the software
Cons
Pricey themes.
Easily Slowed Down
Requires Development Skills
Virtually no support.
Requires ample space and memory to perform well
Wix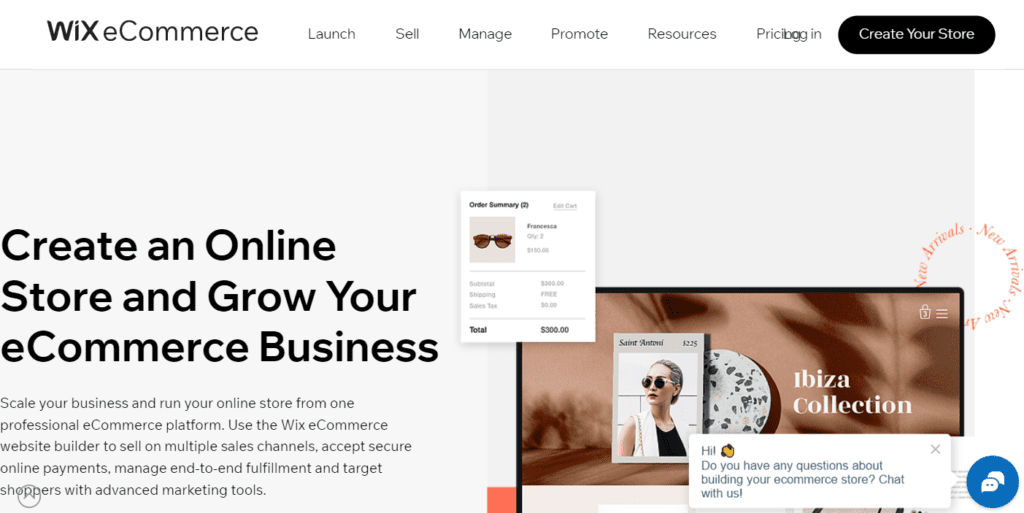 Wix ecommerce has come a long way in a few years. When I first started writing ecommerce platform reviews in 2017, Wix wasn't even on my list. Once they got added to my list, I gave them a really poor rating and would not recommend them.
Now, Wix is a major force in the ecommerce space and they deliver amazing value for solorprenuers and small ecommerce businesses. Wix's ecommerce features have evolved drastically in a few years, they now offer multi channel integration, abandoned cart recovery, dropship and print on demand capabilities.
In previous years, they've had significant issues with SEO. Few were resolved; some, like the short extra string to the URLs of blog posts and product pages still remain. That's not ideal for SEO, especially for large ecommerce businesses.
As you grow, you might need to switch because aside from the limited features, the storage space is 20GB and if you are dealing with lots of heavy digital products or other materials, that space might not do.


It's beginner friendly. Of all the top website builders that I've dealt with, Wix topped most for on-page customer support while creating the store.
You can drag and drop elements to add cool videos, functionality, and create the website you want. They have over 500 themes of which 72 are free. Unfortunately, you're stuck with whatever theme you chose at the time of publishing your site except if you used their ADI.
Pros
Tons of free amazing themes.
Really simple to use and set up
On-page support for numerous needs
72 free themes
Cons
Trying hard to fight a bad SEO reputation. Made improvements, but tested very poorly.
Many sites were not secured
Lacks upselling features and advanced automation
Difficult to fully customize template